Influencer marketing has been around for way longer than we believe.
Celebrity endorsement aka celebrity branding is almost three centuries old. And it started with pottery.
In the 1760's, Josiah Wedgwood was a potter, but he also had a mind for business. He was so good at his craft that some of his customers became members of the royal family and Queen Charlotte herself. Most other traders would have stopped there: you are getting commissioned by the royal family, what more could you ask for?
But Josiah made a step forward: With the Queen's "OK", he named a line of pottery "Queens Ware". Also, every piece of pottery Josiah would design for the Queen would exhibit in museums around the country. Soon enough, he became known as 'the man who made pottery for queens'.
The promotion of "Queens Ware" really made a difference for his business and it became one of the most successful in the industry.
Josiah Wedgwood became the first entrepreneur to leverage influencers for his business.
For the record, Josiah Wedgwood and Sons are still open for business, as part of the legendary Finnish company Fiskars.
Why influencer marketing?
If you work in the marketing or the advertising business, you should have noticed a common trend with your clients by now: More and more of them want to include in their campaigns the latest hot marketing trend, the influencer.
Or it could be the other way around. Maybe you are the one who will often suggest to their clients that "this dude with 2m subscribers will bring to your service massive awareness" or "that gal with 20k followers has built an audience that will love your product".
Is this only a shallow trend? Do the results of influencer campaigns live up to their hype?
Benefits of Influencer marketing
They are content machines
They say the content marketing is the king of marketing. It so happens that influencers are good at it. Content marketing is about two things – content generation and content distribution. Influencers excel at both. Influencers are experienced with user-generated content, and it's become second nature to them.
Their high and daily engagement with social media content creation has put them in a spot where they can generate content successfully: they know what works and what doesn't; they know what sells and what doesn't.
And then there's the bane of so many content creators: distribution. A bane that influencers don't share because they can share content naturally: through their own digital channels from their own profiles.
All across the marketing funnel
Influencer marketing has proven to be a valuable method for marketing a brand or product, with a number of different outcomes: improving brand advocacy, increasing awareness, reaching new audiences, and improving sales conversion are the most notable.
In any successful influencer campaign, from the moment the influencer advertises a product or service, they should expect from an immediate sale to a long-lasting awareness and everything in-between.
They are trusted
Consumers trust influencers just as much as friends. 92% of consumers trust recommendations from personal connections, while only 33% of them say they trust ads.
A friendly and familiar face usually builds more trust than a catchy slogan or a polished video production.
When an influencer is mentioning a product of yours, they're vouching for your brand in terms of integrity, reliability, and overall credibility.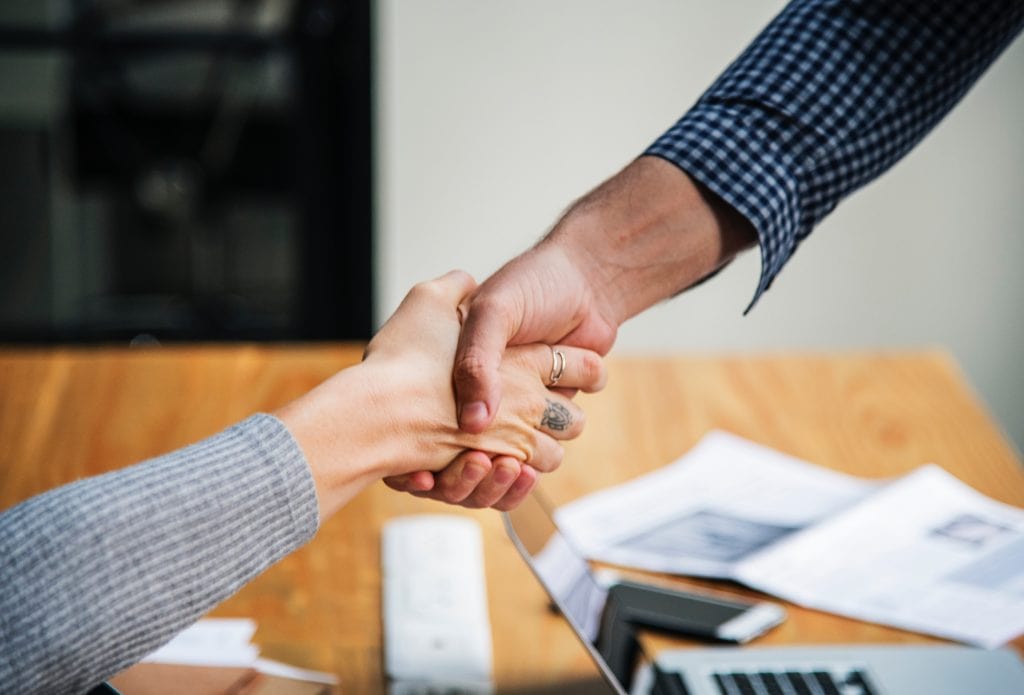 They encourage interaction
The everyday life of the influencer revolves around how they can engage more with their audience, how they can deliver to their audience what they came for, entertainment, information, etc.
They know how to engage with their audience
Is the primary audience of an influencer housewives, pet owners or gym enthusiasts? No matter the type of audience, influencers know how to engage with it: how to talk, what to say, and how to persuade.
They boost your SEO
Beyond the traffic on your site, ecommerce shop and social media channels, an influencer can also help you with your SEO through backlinks. While Google doesn't take into account social shares, their blogs can help you with link building that can boost your SEO.
Through influencer marketing, you can create links with more authority.
Traffic opens the door for new opportunities
Thanks to a successful influencer campaign, you know have people coming on your site to buy or get whatever the influencer said or displayed. Congratulations, I guess, but this shouldn't be your final goal because this shouldn't be the end of your potential customer's journey.
Try to get their email with a widget, tag them with a facebook pixel, you know, all things growth hacking.
Influencer Marketing in Numbers
According to collectivebias.com, 30% of millennial consumers are affected positively in a buying decision when a non-celebrity blogger endorses a product. In this study that fielded 14,000 adults, only 3% of them would consider making the same purchase if it was endorsed by a celebrity. Those results point to the current ineffectiveness of traditional ways of advertising and the need for alternative mechanisms of marketing to drive sales.
Also, Facebook and YouTube are the most effective channels. About 19 per cent of consumers says that Facebook influences their purchasing decision the most, with YouTube coming in second at nearly 18 per cent. Youtube, in particular, having the most robust content format, video, influences younger generations in such a way that 40% of them say their favourite creator understands them better than their friends. In addition, 70% of them relate to YouTube creators more than traditional celebrities.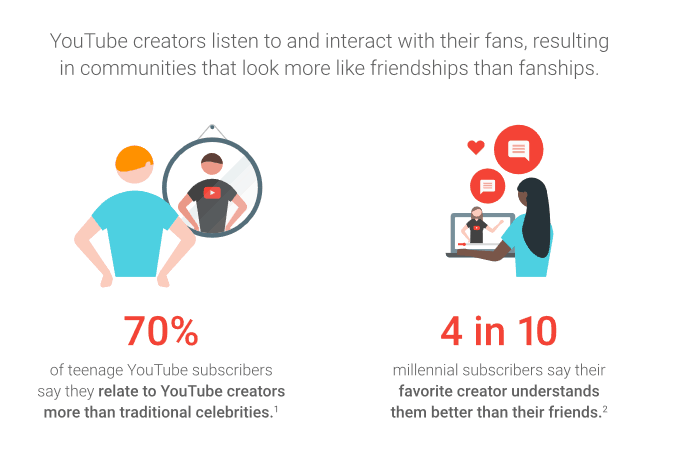 Bonus statistic: YouTube is especially popular with men compared to women. Women love Pinterest and Instagram, but men rule most of YouTube parts.

So do marketers give in the influencer frenzy? This study by Linqia states that almost 40% of marketers plan to increase their influencer marketing budget in 2018. By the end of the year, we will know if this was the case, but still, the intention for a budget increase is more common than a budget decrease or even indecisiveness.

From the same study, Instagram is portrayed as the platform king of influencer marketing, with Facebook being the runner-up. Most marketers agree – Snapchat Twitter and Pinterest are not among their top preferences.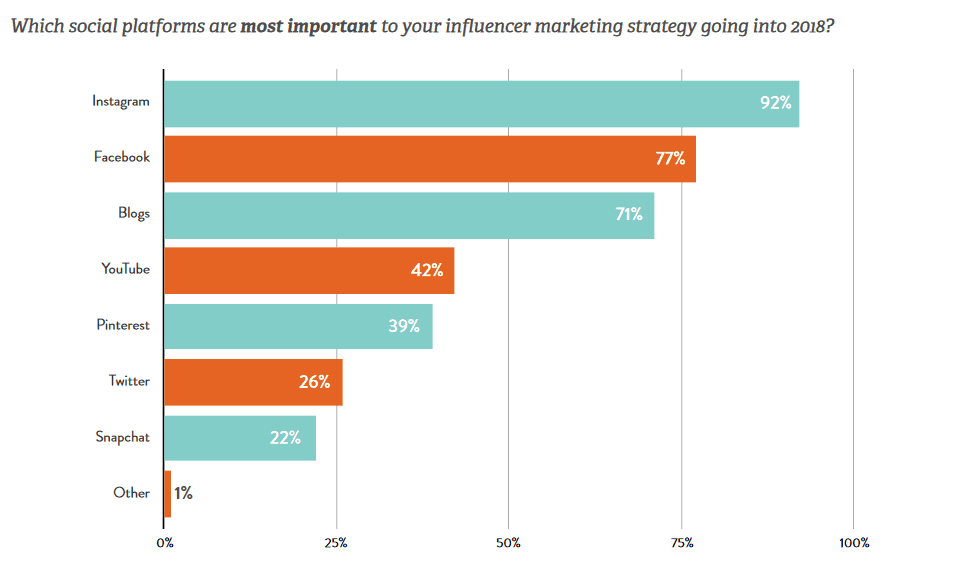 Over the past year brands have spent more than $1bn (£776.7m) on Instagram influencers according to Mediakik, which tracked the number of sponsored posts on the platform. It expects this figure to double soon.
Influencer Marketing vs Paid Ads
Some marketers say that word of mouth, not paid ads, is the future of marketing.
Studies show that word of mouth advertising generates double the amount of sales of paid advertising.
According to Viral Loops, Word of mouth is the primary factor behind 20% to 50% of all purchasing decisions.
But why is word of mouth so effective?
"Word of mouth is a phenomenon where people love something so much; they just cannot stop boasting about it, until everyone gets to try it. And if anybody has something bad to say about it, then these passionate fans are able to go full berserk in order to protect it."
People rely on word of mouth more when they are buying a product for the first time when they consider the purchase expensive, or when they don't know a lot about the product.
Influencers are so powerful because they practice word of mouth. Most of the time, influencers are the guys and gals next door who share the experience they had with a product or service with their followers. This has the same impact on their audience, as influencers simulate the opinion of a friend or family member. That's why thirty per cent of consumers are more likely to buy a product recommended by an influencer. Because someone from their flock recommends it.
When influencers brand your goods, they create an open a discussion which encourages more people to talk about your brand.
Often, your audience won't even see your paid ad. Almost 70 million people int he US use ad block software. The US is not alone in this: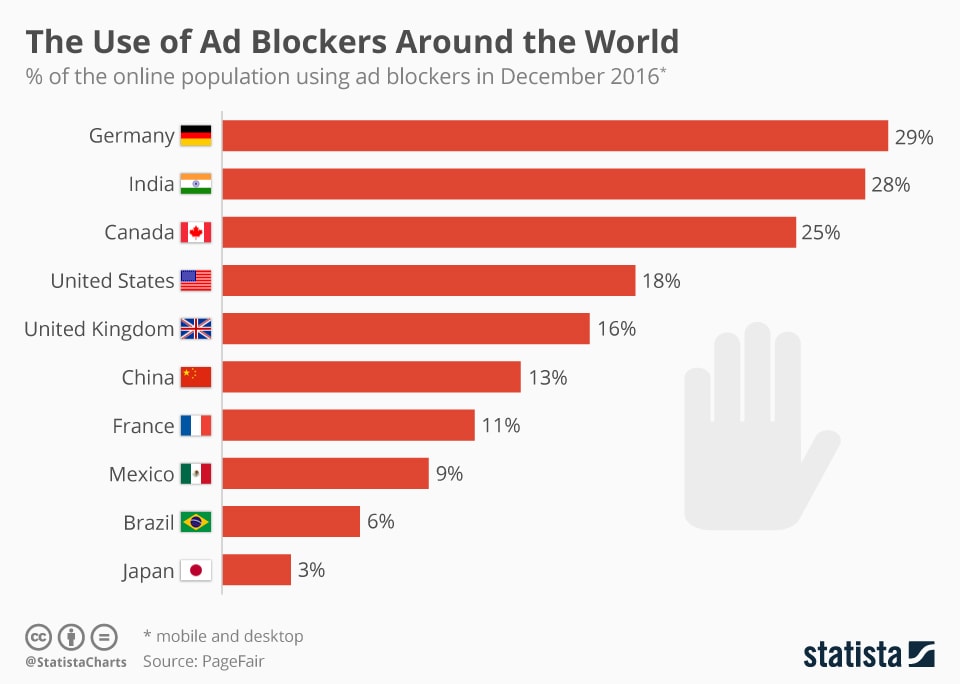 And the percentage of ad blocker is even higher, considering that kids and the elderly don't know or don't care about using an ad-blocker on their internet browsers.
So how much will an influencer cost me?
As you've probably guessed there is no standard answer to that.
The number 1 factor of the cost is, of course, the size of the influencer's audience. The bigger the size, the more $€¥ you will need.
Marketingprofs.com make some estimations regarding how much two different types of influencers will cost you, micro and macro per social media platform – youtube, Snapchat, Instagram and Twitter.
A one-off fee is not the only way to compensate or pay an influencer in marketing business though. The most usual models are these:

Pay per post/ video: This is the standard pricing model. The influencer is paid a one-off fee for creating and publishing the agreed content.
Cost per engagement: The influencer is paid on the number of engagement their content gets (likes, comments, shares).
Free products/ services: Instead of money, the influencer is paid in freebies, usually what the brand is selling.
Cost per click: The influencer is paid on the number of engagement their content gets.
Cost per acquisition: This works similar to a commission: The influencer is paid based on the number of sales/ subscriptions/ sign-ups they make.
For more about Instagram's influencers and how much one could cost you, you can try an 'influencer money calculator', like this one from Influencer Marketing Hub.
Conclusion
Influencer marketing is on the rise. Marketers around the world integrate influencer marketing with other digital channels and leverage influencer content, as influencers:
Are content machines that both create and distribute content for you.
Can help you with awareness as much as with sales.
Are trusted and thus give credibility to your brand.
Can boost your SEO and traffic.
Can be more effective than paid advertising.
If you haven't experimented with influencers, maybe the time has come, but do a research first.
Pick the influencer according to your audience. The target audience of the influencer should be your target audience.

Get to know more about your potential collaborator:
What is their reach – their total numbers of followers?
What's their engagement rate – what percentage of their followers actually engages?
What kind of work have they done for previous brands?
Are their personality and style align with your values and aesthetic?
Is their niche the same as yours?
The good news is that you can start experimenting for cheap, compared to the cost of other marketing channels. So what you are waiting for?
The post Influencer Marketing: Just a Trend or Real Value? appeared first on GrowthRocks.