When search term was a $0 business, rococo was considered minimal compared to the aesthetic of the average website, and the only influencer around was your best friend, digital marketing was already a thing. It was just called "Hey, let's send some people a few emails".
The further we go back into the history of humanity, the more myths we will encounter. Likewise, it's understandable why the most myths we hear about digital marketing concern the oldest branch of digital marketing – email marketing.
But this changes today. Because it's time for some myth-busting!
Myth#1: Email Marketing is Dying
Now, if we don't debunk this myth, we can't go any further, can we?
The single best way to bust a myth is when nubers talk, and in our case here they are:
75 trillion emails sent last year say otherwise. That's 205,5 billion emails per day.
The latest Radicati Group Email Statistics Report shows that in the running year, planet earth sends 281 billion emails per day.
Statista predicts that they daily sent and received emails will increase by 52 billion by 2022. That means more than 333 billion emails will come and go on a daily basis within a few years.
Myth#2: Only desk job workers and/ or old people read their emails
Using a search engine for information or engaging with the numerous social media is not the most popular activity for the US adult internet users. Sending or reading an email is.

Source: Statista
Also, according to ExactTarget, 93% of US online consumers are email subscribers but not as many are Facebook fans, or Twitter and Instagram followers of a brand. Almost everyone hears from a brand through their email inboxes but far less have social media accounts to Like or Follow a brand or a business.
In the latest consumer digital usage and behaviour study by Adestra, different age groups answered this question: If you could select a communication preference from a business, which one would you choose?
And this is what they answered: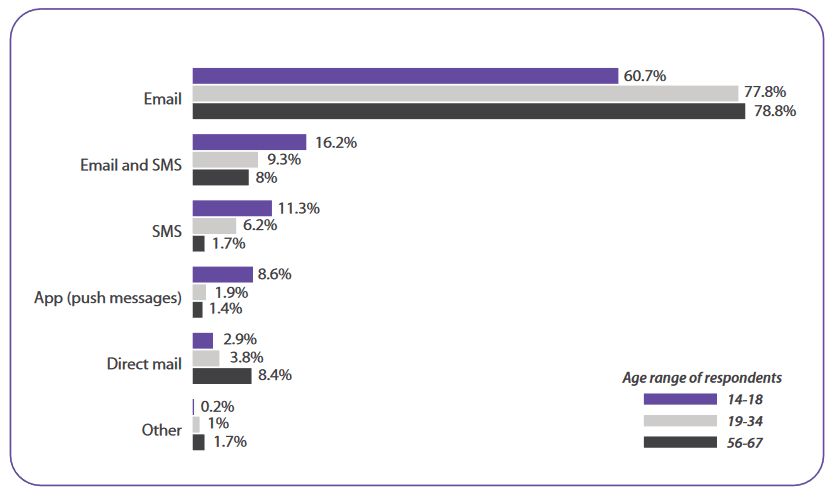 Clearly enough, the majority of consumers, regardless of age, want to hear from you through their inbox over any other channel – digital or not.
As a side note, also as a result from the same study, when consumers register to use an app, more than 83% of them sign up with their email than their social media account.
Myth#3: You should avoid spam words like the devil
It's not a myth that email clients protect their users with spam filters. Email spam words exist and so do spam filters. This kind of filters will make your message bounce, and you don't want that.
Email spam trigger words include words and symbols like 'Cash', '100%', '$$$', 'Free', 'Success', 'Viagra', 'Valium', 'Vicodin', 'Xanax', 'Rolex', 'Million', 'Life', 'No fees' and ' Never'. So does this mean that you should never use this words? Well, if you are actually selling Xanax online… tough luck. But for the most part, you are going to be OK if you stay away from:
Caps
Exclamation points
Unreliable email service providers
Attaching files
Long emails
Keep in mind that it's not the use of spam words that matters the most. Context is what matters. Finding better alternatives to spam trigger words is always a good idea, but if you can't, don't sweat it. Spam filters become more sophisticated with time and they analyse the context in which you use these keywords.
In general, try to add value for your subscribers rather than selling to them in front of their face.
Instead of "Buy our tickets to Thailand RIGHT NAW!1", you can go with "Most popular destinations for 2018", where you will include Thailand and the option to buy some tickets to there.
The more value you add, the higher the chance that you'll land in the inbox, and not the spam folder
As a matter of fact, I ran some experiments myself with Growthrock's newsletter. So here are the subject lines of 6 newsletters Roxie sent this year – 3 of these titles are legit, and 3 of them aren't.
Subject line: Facebook is for old people
Total bounces: 37 (23 soft + 14 hard)

Subject line: How to create images fast – for $0
Total bounces: 42 (30 soft + 12 hard)

Subject line: Free Buyer Persona Template!
Total bounces: 45 (42 soft + 3 hard)

Subject line: it's hot in here and so is this week's article
Total bounces: 59 (40 soft + 19 hard)

Subject line: tables have turned
Total bounces: 75 (58 soft + 17 hard)

Subject line: Marketers steal from Engineers?!
Total bounces: 113 (106 soft + 7 hard)
What do we learn from this? We see that there is no direct correlation between spam triggers and bounces. Subject lines 2, 3 and 6 contain spam words and symbols, whereas lines 1, 4 and 5 don't. Truth is I pushed my luck with the double exclamation mark in the last email, which resulted to significantly more bounds. Was the double exclamation mark needed there? No, not all. The meaning wouldn't have changed in the slightest so the emphasis with '?!' could have easily stayed away from the subject line. Still, 113 bounces out of a few thousand are not that big a deal.
In the case of '$0' and 'Free', I couldn't have done otherwise, except for changing the whole title of course. Context justifies the use of '$0' because the purpose of the article was about image creation for free. The very value of the blog post was that you can find and create images for free.
There is no single best practice for the email marketing subject lines. You should test your email lists yourself and find out what works and what doesn't.
Myth#4: A short headline is a good headline
We should start with what we know is not working. We know that your subject line shouldn't be over 50 characters, as most email clients display 50 characters tops.
These are the most popular email clients and the max character length for each one:

MailChimp made a study and concluded that 'subject line length means nothing'.
They used the info they had from 12 billion sent emails from that year and showed that as the subject line gets longer… nothing happens:

Still, this is not the case for every email list out there.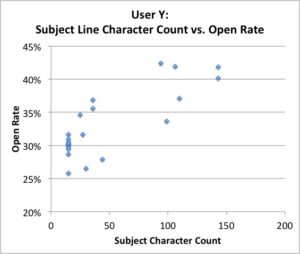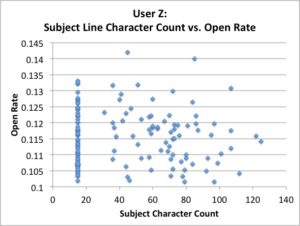 In the list of their sender X, short subject lines had higher open rates. In the case of sender Y, it was the longer titles that were more welcomed by the mail recipients. Meanwhile, there was a sender Z with no correlation between the subject line length and the open rate. MailChimp states that most email lists fall into this category.
Through A/B testing and a little time, you should know if your mail lists belong in any of the two extremes. Maybe the majority of your recipients is white-collar workers who usually read your emails from their PCs and Macs. Perhaps most of them belong in Generation Z, so chances are they read your emails from their mobile screens. You are the only one who can find out and maybe you should.
Myth#5: Tuesdays 1 pm or Thursdays 3 pm is the best time to send an email
If you google 'What's the best time and date to send email', you are going to get different answers. A different answer for every link to be exact.
85% of people open their emails two days after they receive it, according to Optinmonster. This factor alone makes you question if there is indeed such a thing as "best time".
There is no universal best time to send an email. Ideal sending times vary by industry, day of the week, and your specific list.
To find out what's the best time to send an email for your list, is to create an A/B test campaign. This way you will test delivery date and time and compare click rates and click through rates on your reports page.
You can also let your email marketing service decide what's the best date and time. Here at GrowthRocks, we use MailChimp for now, and since we are paid users, we can enable a feature called Send Time Optimization.

Send Time Optimization looks at your specific list and determines the best sending time for the subscribers you're sending to, and distributes it at the optimal time. Send time recommendations are weighted toward subscribers with higher engagement so that times aren't determined by subscribers who aren't likely to engage with your email marketing. This optimisation also combines statistics from different senders, so if one of your subscribers is also a subscriber in another MailChimp list, their statistics are combined.
Myth#6: You are sending too many emails
Omnisend did a research this year which focused on the email campaigns of small and medium-sized businesses. And this is how often its clients send emails per month:

Side-Note: As a rule of thumb, that the bigger the company, the more emails it sends.
And this is how often the audience opens the emails: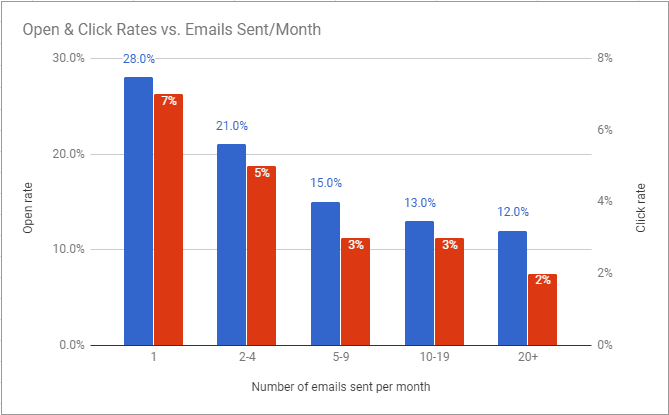 Looking at this chart, we see that open & click-through rates are reverse to the number of emails businesses sent. So we can all agree that you shouldn't send a lot of emails and we can happily move on to the next subject.
Not so fast.
Remember, our KPI here is Acquisition. Your ultimate goal is to get the most possible orders, not to have the highest CTR & CTOR.
Take a look at the next slide.

What this practically means is that businesses got five order for each new mail campaign until the 19th. By sending more promotional emails, you create opportunities to sell more. While the mail frequency increases, CTR & CTOR go down, but orders go up!
At first glance, this may seem like a paradox, but there is a rational explanation for that.
This explanation comes from the end of 19th century, from a bright mind you may have heard of: Vilfredo Pareto. In his first paper, Pareto published his 80/20 rule which states that, for many events, roughly 80% of the effects come from 20% of the causes. Later on, this principle entered the business world and became an axiom in business management, suggesting that "80% of sales come from 20% of clients".
And now our mail results make a little more sense.
But how can you turn this principle in your favour?
With one word, segmentation. By segmenting your audience, you can send the right amount of emails to the right people. You should consider creating two different groups: one with your 20% of customers that buy more often from you and one with the rest 80% customers.

Be very giving to your first group and more conservative with your email frequency to the second.
Segmentation, of course, can go beyond the quantity which we are examining now. Quality-wise, you can have as many groups as you want and create tailor-made campaigns for your customers.
Conclusion
Email marketing gets a bad reputation as one of the more spammy marketing channels. However, email remains one of the most effective channels businesses,and marketers have for initiating a conversation and reaching out to their audience and customers.
To sum up:
Email marketing is not dying. Don't underestimate its power.
Email marketing is for every age and profession
Regarding subject lines, context is more important than words
Subject lines don't have to be long or short
There no single best date or time to send an email
Segment your audience and send more emails to the most engaged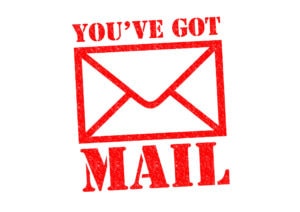 The post The 6 Biggest Email Marketing Myths BUSTED appeared first on GrowthRocks.