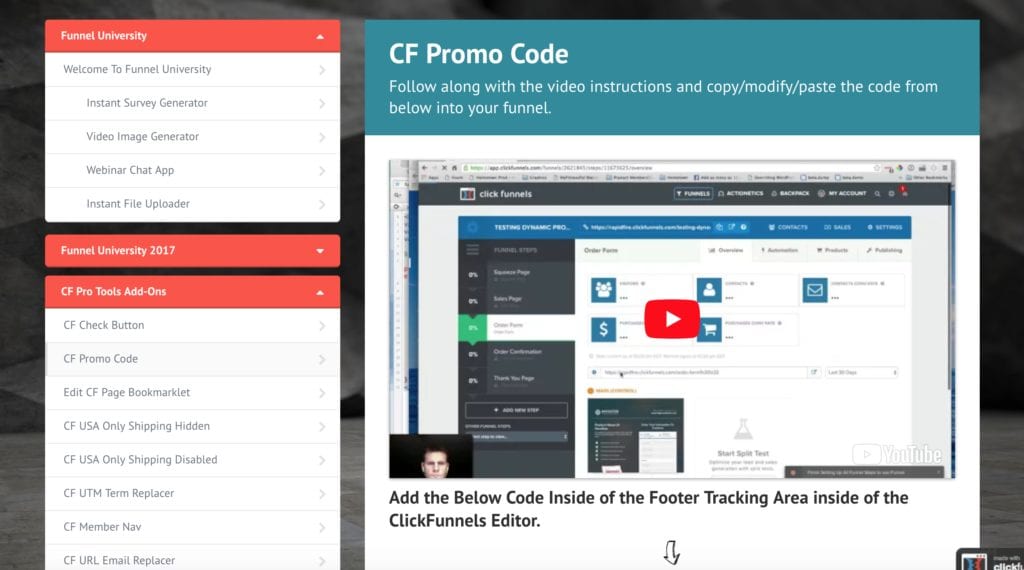 The post How to Create Black Friday Sales for Your Funnels appeared first on ClickFunnels.
Black Friday is coming…the only time of year when it doesn't look desperate to slash prices! If you've got funnels up and running, now's the time (like TODAY) to create some kickin' Black Friday specials.
Here are a couple ways to do it….
Get the PROMO script inside Funnel U
The Promo script allows you to create a special offer with a coupon code on your order forms. You can get inside the Funnel U members area where there is the code, plus a video training on how to insert it into your funnels! Then all you have to do is send out some emails with your coupon codes!
Create the "appearance" of sales with your order form text
A great way to add a Black Friday feel is to simply adjust the wording on the product description. You don't actually have to lower the price, just add the wording of a sale. It's like the furniture sales that have sales EVERY week, it's just for a different holiday or event.

Create a new order form and re-route people
Some of you might have complicated funnels that can't be disturbed. This has happened to me and my clients, so in the case of a Black Friday sale, we simply duplicate the order form, set it up as a new order form with the product special, and then all you have to do in your funnel is use the redirect override for the 24 or 48 hours you're running the sale. Then you can set it back to normal. If you have a squeeze page and you want people to go to the Black Friday sale, the redirect is perfect for this. Having a separate order form also allows you to see the stats for your special.

Add a new product and price and set a timer
Another way to add a sale is to simply create a new product on your order form, and just add it to the existing order form. People will naturally choose the lower price and the regular products next to it will help anchor the idea in their head that it's a sale! Then, add a date countdown timer on the order form to create urgency. You don't actually have to expire the page by the way. Just remember to remove the product and the timer when the sale runs out.

Create an Exit-Pop that advertises a deal
You can do this on your sales pages, order forms, or even your website. Create an exit-pop that talks about your Black Friday special and then have them enter their email on the exit pop. The button should be set to submit form, and then redirect them (with the redirect override) to the order form or sales page with the sale. The reason you want to get peoples' email is to send them a few follow-up emails about your Black Friday offers.

I've even seen this done where the product on the order form is set to $50, but when they try to exit the page, it asks them if they want 20% off and when they click yes, it sends them to a new order form with the reduced price.
What kind of crazy sales are you going to run?
Thanks for reading How to Create Black Friday Sales for Your Funnels which appeared first on ClickFunnels.