Creative split testing of Facebook ads just became a whole lot easier with the update of Facebook's built-in split testing feature.
Don't confuse this update with the dynamic creative feature (which is also amazing). Facebook creative split testing is a great way to run tests to determine your best performing ad without audience overlap.
Let's take a closer look…
Facebook Split Testing
I first told you about Facebook's built-in split testing feature nearly a year ago.
To use the split testing feature, you'll need to use one of the following objectives:
Reach
Traffic
App Installs
Video Views
Lead Generation
Conversions
Catalog Sales
While setting up a campaign, you'll notice a checkbox for "Create Split Test" under the objective.
At the ad set level, you would then select the variable you want to test…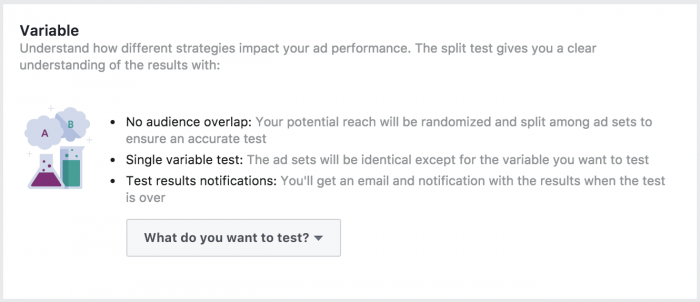 Until now, you could split test delivery optimization (Conversions vs. Link Clicks, for example), Audience (Website Custom Audience vs. Page Connections, for example), and then later, placement.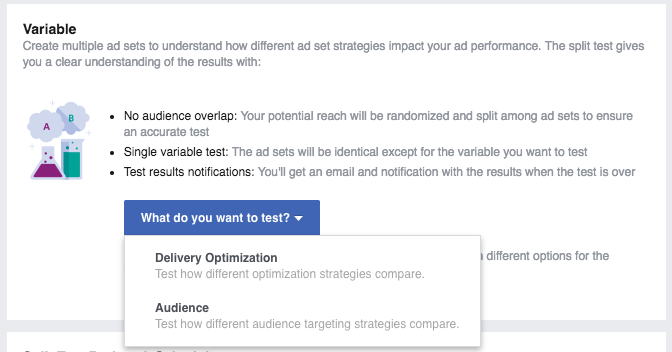 One of the primary benefits of Facebook's built-in split testing tool is the lack of audience overlap. Facebook will randomly determine who is tested against each variation. No exclusions necessary.
Prior Creative Split Testing Options
While Facebook's built-in split testing tool is great, it didn't previously address creative. So, if you wanted to split test creative, it was difficult to make it a true A/B test without overlap.
In the past, you would have done one of two things:
1. Create two or more separate ads within the same ad set. By doing this, Facebook optimizes to provide the most impressions to the highest performing ad. The same audience will be served ads from the same pool of creative, but some will see only one variation while other users may see multiple.
2. Create multiple ad sets with a single ad variation within each. As long as you were careful with necessary exclusions, you could prevent overlap, but it takes more time.
Additionally, it's a bad test by comparing results from two potentially very different audiences as opposed to randomly selecting people from the same audience. Are the better results due to the creative or the audience you are targeting? It wasn't always clear.
How to Use Creative Split Testing
Thankfully, Facebook addresses these concerns with the new creative split testing feature.
Now, when selecting the variable you want to test, you'll see the option of Creative.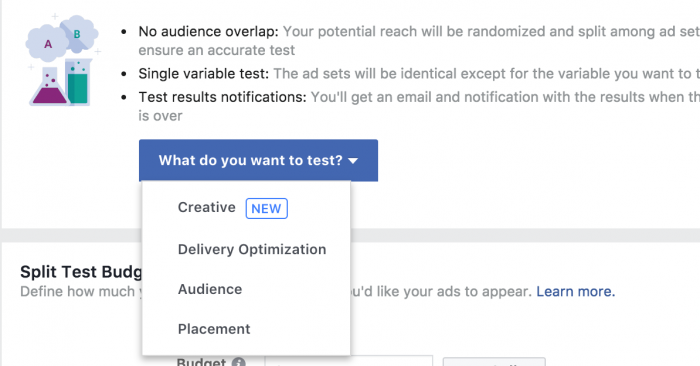 Set up your audience and placements as you normally would.
Your split test will need to run for between three and 14 days. This is required so that Facebook can get the sample size necessary to determine a winner.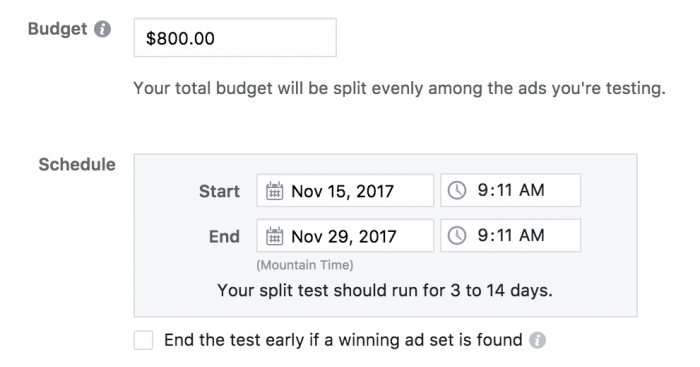 However, there is an option to end the split test early once a winner has been found…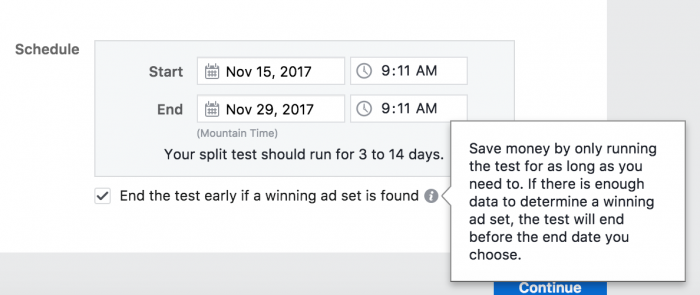 On the right side of the ad set, Facebook shows you how your split test is being organized.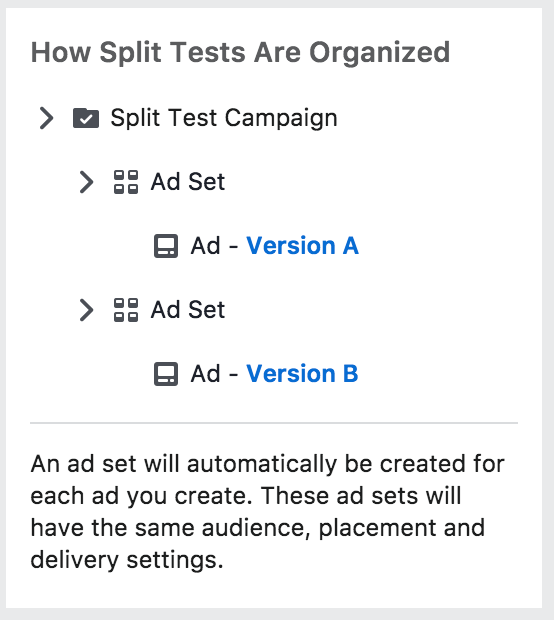 Even though you're putting in the work of creating a single ad set, Facebook is generating an ad set for each ad. Each ad set will have identical settings for audience, placement, and delivery.
REMINDER: While the audience is the same, there will be no overlap. Each user will only see one creative variation, and users are selected randomly.
You can create up to five ad variations. On the left, you'll see Ad A through E (if applicable).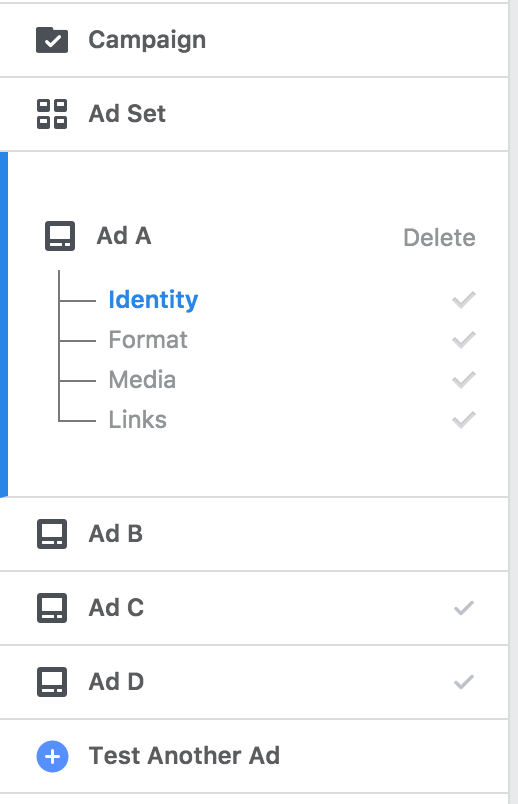 Create your ads as you normally would with image, link, headline, text, link description, CTA button, and more. When you click the "Test Another Ad" button, Facebook will copy the prior ad for easy editing.
Your Turn
This is a great new option for advertisers to help uncover the highest performing creative. By using this feature and (separately) the dynamic creative feature, advertisers are much better equipped to serve high performing creative.
Have you tried out the creative split testing feature? What do you think?
Let me know in the comments below!
The post New Feature: Facebook Creative Split Testing appeared first on Jon Loomer Digital.